Knebworth Festival 1976

THE ROLLING STONES were booked to play at Knebworth and entered right into the spirit of the 'Knebworth Fair' vibe. Earlier in the summer of 1976, they hired two brave souls to dress up in Harlequin outfits – the symbol of the event – and run onto centre court at Wimbledon on finals day with a banner 'Stones At Knebworth'. Even better, they got two topless girls to do the same at a (televised) Sussex cricket match. That must have caused some choking on pink gins.
The Stones came down to the North Hertfordshire stately home – probably quite to their taste – a few times before the August 21 event, in order to scope the venue out. They were especially keen on the idea of having jugglers and clowns around the place; and also had input into the stage design, which resembled a great big mouth with a long tongue-type walkway jutting out. Sound familiar?
On the Thursday night, the Stones soundchecked, but were interrupted by… an irate Girl Guide leader, who insisted that she had booked part of the park and "her girls" were unable to have a camp fire sing-song due to the racket of their esteemed satanic majesties. The promoter suggested she go and take it up with Mick Jagger. So she marched down to the stage, grabbed Mick by the arm and bellowed: "Young man, this noise must stop. My girls can't hear themselves sing."
Sir Mick suggested that she "f*ck off", as you would, but they make Girl Guide leaders out of tough stuff, it seems, as the world's biggest rock and roll band stopped nevertheless.
1976 was that incredible hot summer, and promoter Freddie Bannister and owner/lady of the manor Chryssie Cobbold – who has written an excellent book on the Knebworth Festivals – expected many more than the 100,000 ticketed punters to turn up to see the Stones and five other bands: 10cc, Lynyrd Skynyrd, Todd Rundgren's Utopia, Hot Tuna, and the Don Harrison Band. Queen were originally booked to headline but got shunted when Mick and Keef fancied Knebworth – Freddie and company would show they could rock it outdoors with their superb Hyde Park gig a month later.
The Don Harrison Band opened and found the crowd unmoved by their Credence-ish bayou rock, although that summer's single 'Sixteen Tons' was a belter. Technical difficulties meant that there was a two-hour delay before Hot Tuna – Jorma Kaukonen and Jack Casady's band formed as an offshoot of Jefferson Airplane – came on. They didn't play many gigs outside of the US and were well received, as was the eccentric Todd Rundgren, who closed with a storming take on The Move's 'Do Ya'. At this time Todd was emerging from his dense proggy rock and into the shorter, snappy rock on Ooops Wrong Planet and the grandiose visions of Ra, both of which were to be released the following year. Todd, a still largely unsung genius of rock n roll, was to return in 1979 for the Zeppelin gig. But the real highlight was to come next.
Lynyrd Skynyrd were awesome. The Knebworth version of 'Free Bird' has gone done as an absolute classic, and it's easy to see why. Check out some excellent You Tube footage from the Old Grey Whistle Test(presented by Annie Nightingale when she was just plain old Anne, according to the credits. Wonder what happened with the name change?) It's just totally blinding stuff – sad and heartfelt to start, then that lovely wailing guitar. The crowd are swaying a bit, sort of blissed out. Then it all goes off. Singer Ronnie Van Zandt, the archetype of hard-riding Southern rock in T-shirt and cowboy hat, drinking JD – takes to the front of the stage, down to the tip of the tongue bit, and apparently in direct contravention with the express instructions of Herr Jagger, who didn't want anyone muscling in on his tongue action. As it were.
Anyway, so Ronnie goes back to the band and, arms around guitarists Gary Rossington and Allen Collins, leads them to the front of the stage for some of the most tremendous duelling, barnet shaking, jumping up in the air balls out rocking you will ever see. Skynyrd new-boy and rhythm man Steve Gaines joins in and the three guitarists tear it up. It should be mentioned at this point that bass player Leon Wilkeson is banging away on his bass wearing a policeman's helmet. Artimus Pyle's drums pound along, Billy Powell's keys soar, three hot backing singers add to the raunch.
That passion and energy and virtuoso soloing above the chunky, totally simple blues riff… anyone who has ever yearned for a good time, or wanted someone or something really badly and been ready to fight for it: here it is expressed in pure thumping rock form.
For the obvious reasons, there's always a bittersweet feeling when you see a band like Skynrd back in the day. Of the four rocking out on Mick Jagger's stage lip, three are gone now – Ronnie and Steve in the 1977 plane crash, Allen from complications of the 1986 car crash that paralysed him.
Following Lynyrd Skynyrd on this Saturday would have been a tough ask for anybody and maybe 10cc with their blend of smart, wry, poppy rock were not the best choice. Their double live album proves just what a kick ass live band they were but they were beset by technical difficulties to boot and took two hours to get on stage. 'I'm Not In Love' went down a treat,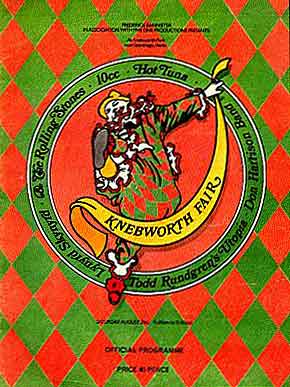 but the organisers were by now seriously nervous, as the event was badly over-running.
The Stones started playing at 11.30pm – half an hour after the event was supposed to end. The crowd were drunk and tired and rowdy, but a few bars into 'Satisfaction', it was clear that this was going to be a good night for the Stones. Ronnie Wood, not long in the band, had given them even more impetus, driving them along and providing a sort of warmth and humour on stage that acted as the perfect foil to Mick's high-energy sex appeal. They played a long, fine show with plenty of classics – 'Honky Tonk Woman' and 'Jumping Jack Flash' were standouts.
Looking at the footage, it makes you think how they were playing, really, to a new generation of fans, lads who were in the sandpit when 'It's All Over Now' came out. But they were still the supreme entertainers, brilliantly paced and perfectly delivered. Could say the same even 32 years on from that, I guess. But excellent though the Stones were, the day belonged to Lynyrd Skynyrd, and there's not many that can say, as Artimus did, that "they blew The Stones off the stage that day".

Chapter 14
Bath 1970
WHEN THEY PLAYED the Bath Festival of Blues in 1969, about 12,000 saw Led Zeppelin. By the 1970, the foursome had seen their UK popularity surge, and over 150,000 came to Shepton Mallet on the 27th and 28th of June 1970 for the Bath Festival Of Blues And Progressive Music. And a hell of a lot of that number were there for Led Zep.
Bath 1970 featured a really terrific line-up of US West coast bands and British music fans jumped at the chance to see them. Sadly, there is no footage of real quality available, and a lot of the audio out there is so-so amateur taped stuff from people in the crowd. The weather was pretty windy so the sound quality on a lot of the recordings is nothing to write home about. Various commercial disputes and technical snafus meant that such video as was taken has yet to get a commercial release.
It's probably for thisreason that Bath 1970 has notachieved the legendary mainstream status of the other big rock event that summer, the Isle Of Wight.The line-up at Bath compares very favourably to the IoW, or indeed to any Seventies rock festival you care to name. It featured the premiere of Atom Heart Mother and was the gig that Led Zeppelin themselves credited as their true UK breakthrough.
Bath 1970 was promoted by Freddy Bannister (later responsible for Knebworth, as we mentioned above). The organizers had the advantage of staging the event on a designated campsite, so there weren't the quagmire-type problems associated with having things in a farmer's field. It's just as well, because the English summer was in full effect: it was freezing and peeing down. There were innovations like film tents – showing the likes of King Kong – and large scale projections onto big screens. Sadly for Freddy, the security staff had some innovations of their own: pocketing a fair whack of the door take. On the whole though, it was a well-organised, if not lucrative event.
However, there were serious traffic problems with access to the site and a lot of the bands actually had difficulty getting there on time. Fairport Convention famously got an escort of Hell's Angels to the site, bypassing the traffic, and indeed anyone else in their path. Some people objected to being cleared out of the way by a gang of bikers; they just made sure that they grumbled very quietly. But Fairport's driving, up-tempo folky rock, on the Saturday afternoon, was the first band to get the crowd going, and the event was beginning to warm up.
Things really began to get serious with Colosseum, who played next. The much under-rated Jon Hiseman's drum solo was a stormer: powerful and superbly accomplished, and was thought by many to eclipse that of Bonham himself later in the evening. The festival had caught light.
Riding the wave of the previous year's 'Easy Rider', Steppenwolf were at the peak of their powers, going down a treat with the biker crowd and indeed everyone else. But the traffic delays and dodgy weather meant that the festival was now hours behind schedule and it was not until 3am that Pink Floydbegan.
They had played it before under the somewhat less formidable title of The Amazing Pudding, but this was the first time that the Floyd performed 'Atom Heart Mother' under that name. They had a brass section and a choir for AHM, and also played 'Careful With That Axe, Eugene' and 'Set the Controls for the Heart of the Sun'.

Faced with the unenviable task of coming on after Pink Floyd at FIVE AM was John Mayall, but those who were still awake were treated to a once-in-a-lifetime performance from something of a supergroup. Mayall had just arrived back from Morocco with all he needed to play a major rock festival... apart from a band. He quickly (very quickly) put together a line-up featuring Peter Green on guitar and Aynsley Dunbar on drums, as well as John's brother Rod on the organ.
Unrehearsed, they played a great set, despite the drizzle – and even managed to get away with playing 'It Might As Well Be Raining!' This is interesting because Greeny had left Fleetwood Mac only a couple of months earlier and had just recorded his solo albumEnd Of The Game, which you should check out as it's kind of experimental jamming and not like anything else Greeny recorded before or since.

The next morning dawned soggy, which wasn't great, but worse was the apparent absence of a lot of the due-on bands. Into the breach stepped Donovan. The Scottish folk legend was re-emerging from the wilderness and had phoned the organisers a couple of days before to say that "he might show up." He wandered onto the stage and asked the crowd if they might like to hear a couple of songs, super low-key, and after a cautious start, they warmed to the veteran folkie. He played some of his classics – 'Sunshine Superman', 'Mellow Yellow' – acoustic and also showed off some new, heavy rock sounds with a tight band. He ended up playing for a couple of hours and was a surprise hit.
Back to the main events, as it were, and The Mothers were next on, playing a fine set in freezing weather. Zappa pelted the crowd with oranges during Call Any Vegetable and they closed with a strong version of 'King Kong'. Our t-shirt here commemorates their appearance. Fellow US imports Santana – who with the recent release of Abraxas were increasingly popular – and The Flock were also well received.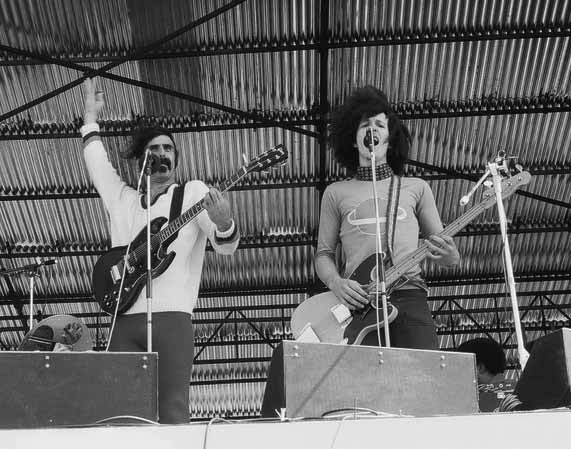 The Flock are a great band: dig Jerry Goodman's violin-driven rock.
With the schedule now hopelessly overrun, headliners Led Zeppulled rank and went on at around 8.30pm. They were hot and heavy,John Bonhamaggressive and charged, and Jimmy Page using his bow. Their legend was growing in the USA thanks to a series of storming live shows and the band knew this was an opportunity to bring their UK profile up to speed. They opened with a debut for 'Immigrant Song' and were a huge hit, playing five encores.
The gig is regarded as a key point in their career, which makes it frustrating that little decent footage survives. Ironically, that was in large part down to the heavy-handed tactics of their own management. Peter Grant and the boys, as was their way at the time, confiscated various tapes and pulled film out of cameras. It was a big missed commercial opportunity,
However, Led Zepcertainly got their timing right, as the rain was not long off. Hot Tuna followed Zeppelin with a blinding set, notably on the wild soloing of 'You Wear Your Dresses Too Short'. Next on, Country Joe got a rousing reception for the Fish Cheer.
Jefferson Airplane, on stage at about 2.30am, were 50minutes into a superb set – 'The Ballad Of You And Me And Pooneil' was as soaring vocal performance and featured a killer solo from Jorma Kaukonen – when rhythm guitarist Paul Kantner got an electric shock from a rain-soaked mike.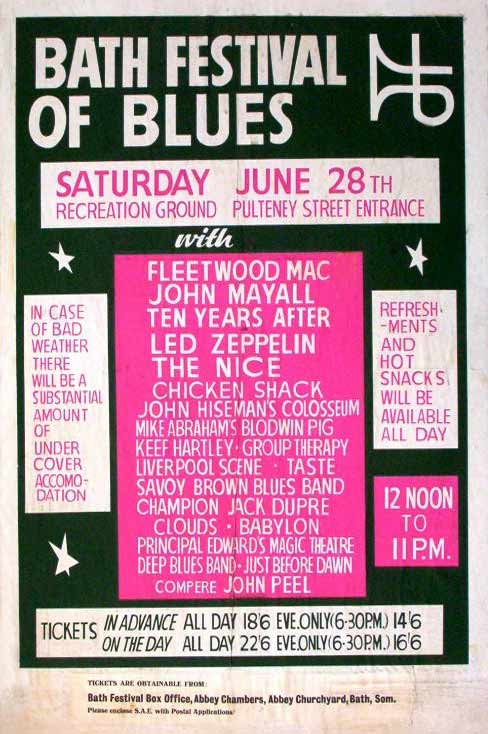 They went off, and the Moody Blues didn't come on. The Byrds, however, were made of sterner stuff and played an acoustic set – their first ever. They played for two hours-plus in the rain, classic after classic, from opener 'It's All Right Ma' through 'The Ballad Of Easy Rider' to 'Wasn't Born To Follow', they entertained until their fingers were shredded. Those who were still awake got a set from Doctor John, and the marathon was over.
For sheer quality of bands, both West Coast visitors and homegrown British talent, you could not say fairer than Bath 1970. So many of the bands that had played Woodstock, which had already passed into legend, were there. Seminal performances from Led Zep, Pink Floydand Jefferson Airplane ensure that it will be talked of for a long time yet; it is just a shame there is not more footage out there for later generations to enjoy. Had there been so, undoubtedly this is one fest that would have passed into folklore as one of the biggest and best of all time in the UK. There have been occasional tantalizing snippets of goss about a documentary, though…Here's hoping…

Chapter 15
Altamont: 6th December 1969
IN THE PREVIOUS chapter, we touched on the bikers at Bath 1970 getting Fairport Convention to the stage on time by clearing people out of their way with motorbikes. But that sort of mild bullying was playground stuff compared to the mad, thrilling horror of Altamont 1969.
Everyone knows, or thinks they do, about the death of Meredith Hunter at the hands of Hell's Angels during the Rolling Stones set at Altamont Speedway in December 1969.
39 years on, it's almost impossible to fully apportion the blame, to sort out the motives of the people involved. Was it wise to hire the bikers as security just as had been done at The Human Be-In, Monterey Pop and Hyde Park fests? Would they have been there causing even more trouble if they hadn't been hired? Was it on the Stones' insistence, or the Grateful Dead's? Were they really paid with $500 worth of beer?
Why did 18-year-old Meredith have a handgun at the concert? Was he getting hassled by the Angels because he was black and with a white girlfriend? Was he planning to shoot at Mick Jagger, as some have claimed? Had he fired a shot? Did he even have a gun?
The only thing you can really say for certain is that, having stabbed Meredith once, and taken him to the ground, he shouldn't have been stabbed a total of five times (coroner's report) and kicked / beaten to death, which ain't much to say about the end of a kid's life, but there it is.
The murky legal aftermath saw Angel Alan Passaro cleared on grounds of self-defence; there was talk of a second assailant, scared witnesses, the whole sorry nine. The case was not finally closed until 2005.
Anyway… so other than that, Mrs Lincoln, how did you enjoy the play?
The Altamont Speedway Free Concert of December 6th 1969 was set to feature a line-up of Santana; Jefferson Airplane; The Flying Burrito Brothers; Crosby, Stills, Nash and Young, The Grateful Dead and the Stones. Now that is a bloody good line-up isn't it? Hey, and it's free so you and me are both going, right? Too right we're going dude and we're gonna get real high. What's the worst that could happen, man?
The venue was only chosen 48 hours before the event – amazingly slack preparation for an event that 300,000 would attend. And the racetrack was a run-down, bleak place, appropriately enough only now used for demolition derbies. Facilities were minimal. It should never have happened. A free festival put together in 24 hours was a recipe for disaster and disaster was what they got.
The festival was advertised on local rock radio stations on the Friday and even as early as Friday night people were turning up in their thousands. A lot drinking heavily and whacked out on STP, a combo that is guaranteed to end in tears even if you're just sitting watching TV let alone if you're in a desolate speedway track with a gang of angry Hells Angels.
A Saturday dawned, streams of hairy people, looking like refugees from a nuclear war, trudged in lines up to seven miles long to get to the racetrack. By 11am there wasn't a foot of space within 75 yards of the hastily built stage.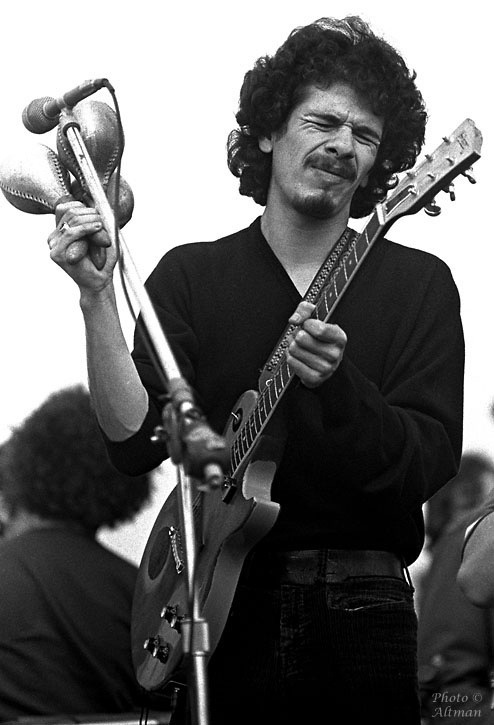 Chip Monck was the best stage manager in the business at the time but with so little time available the stage he built was only seven feet high and easily climbed by anyone with a mind so to do. It should have been at least 12 feet. He knew it could be a problem. He was right.
In retrospect, other than hiring the Angels, maybe that was the single biggest mistake. Loaded fans surged towards the stage – check out the great Gimme Shelter documentary for footage – and, to be fair to the Angels, they had legitimate concerns about the stage being stormed, over-run. Backstage a man, out of his mind on acid had run at Jagger shouting 'I'm going to kill you' which y'know, is like totally uncool brother, so everyone was jumpy from the get-go.
Even during Santana, the first band on, there were already fights breaking out. Of course, the fact that they'd been drinking beer and wine that was spiked with acid didn't exactly help matters.
Second band on were Jefferson Airplane opening with 'We Can Be Together' to try and tone the mood down. But during 'The Other Side Of This Life' fights broke out, pugnacious singer Marty Balin tried to intervene and was promptly knocked unconscious by a biker. Paul Kantner, understandably concerned that one of his singers was sparko, stopped the music and pleaded with the Angels to stop beating people up only to have the microphone confiscated by one of them.
It took ten minutes to clear the stage before Airplane could resume their set. The show must go on. Now everyone was scared that a long gap without music might make the crowd even more restless so the Flying Burrito Brothers were ready to go as Airplane came off.
It worked. For a while. Their brand of proto country rock soothing jangled nerves. However the medical tents were over-run with people crazed on bad acid consumed in the spiked wine that was being passed around. Doesn't sound very hygienic, does it?
CSNY were up next. Violence erupted again as the Angels beat up tripping people who were out of control. Like, dude that's really not helping my buzz, I was hoping for naked chicks not naked aggression, maaaan.
The Dead refused to follow them as scheduled due to the excessive violence and later Robert Hunter wrote 'New Speedway Boogie' for the Workingman's Dead album about the day. But The Stones had to play. God knows what would have happened if they hadn't.
The Stones made everyone wait a long, long time before taking the stage, as was their wont in those days. They wanted all the lights out apart from a spot on Mick, it's said that they even had the medical people turn out their torches. The vibe, at least that captured by the film-makers (young George Lucas was one of the cameramen!), is dark and ugly and thrilling.
Mick Jagger looks extraordinary, in a satin half-brown, half-black sort of… blouse, with these crazy long tasselled arm things, and his skinny little bum wiggling in mustard velvet trousers, alongside these hairy-arsed bikers. He appeals, in vain, throughout the set for calm, sounding like a sort of camp drama teacher who has lost control of the fifth form.
"People! Who's fighting and what for? Why are we fighting," he pleads. "That guy there (pointing) if he doesn't stop it man, cool it man, or we don't play."
But it's quite clear that the Stones don't have much of a choice: there's no way they could walk off without a riot. The version of 'Sympathy For The Devil', shown in its entirety on Gimme Shelter, is absolutely brilliant. There's a real edge to the playing, like they know they are playing for their lives: it's dark and exciting and urgent. There's also a sense of ridiculousness, too – Jagger strutting, singing and snarling about being this ruthless and terrible Satanic figure, yet surrounded by these brutish blokes who could snap him like a dry twig and look like they wouldn't mind trying, who are in their turn his only protectors from a surging, drugged-up mob.
At one point, bizarrely, this huge German Shepherd (dog, not human) trots across the stage. A fat, naked woman fights, really physically fights, her way to the front. All the girls are staring at Jagger, captivated, saucer-eyed. Yet they all look so young, really, just kids swooning at their favourite popstar, not some sort of social or political movement, no less naïve and star-struck as the kids you saw squealing at Beatles concerts five, six years earlier. Jagger is at once transfixing and ludicrous.
There's loads of aggro all over the place now and it is not surprising that many people wrongly believe that the murder of Hunter took place during this all-too-fitting perfect cacophony of Satanic groove. But in fact it is during the next song, 'Under My Thumb', that it happened. The band stops, but the full extent of what's happened is not clear, not least because the Hell's Angels have formed a ring around the murderous action.
It's after this that the famous moment between Keith Richardsand Angels leader Sonny Barger took place. Keef said they were going off; Barger says he stuck a gun in Keef's side and told him: "Keep fucking playing or you're dead."
Meredith Hunter was not the only fatality that night: two people were run over, one drowned in a drainage ditch. Bad drugs, bad people, poor organization and massive egos added up to a disaster at what was hoped would be 'The Woodstock Of The West'.
Altamont, partly through the fascinating and macabre Gimme Shelter movie, has become totemic for the death of peace and love.The end of the innocence and the prelude to a decade of excess and self indulgence. But that's to ignore the fact that there had been bad festivals before Altamont and great ones after. Violence and aggression exist throughout society and when you stick 300,000 people in a racetrack and get them wasted on wine and acid, it'd be surprising if there wasn't a few problems. I'm also willing to bet some people had a great time because The Stones were on their kick ass best form.
Those sort of pronouncements like "this was the day the Sixties was finally over" and so on always seem a bit of a stretch, but you can see why people have made the case. But, distasteful though it is to say, it's one of the finest Stones performances. Writer Robert Santelli said when the Stones plugged in that day they "set forth an avalanche of power and emotion that, in 1969, was rarely reproduced."
In today's world of ticketed seats and health and safety and corporate sponsorship and 'zero tolerance' policing, maybe we've lost sight of the fact that the best nights out, the ones you really remember, are the ones where there's a crackle of danger, a thrill, a risk. Not to say that many people would have called Altamont a great night out, but safety isn't everything in life, either. And this was, after all, rock n roll.
There was a bizarre coda earlier this year when it emerged that Hell's Angels – in revenge for Mick Jagger blaming them for the violent fiasco of Altamont – plotted to murder him a few months later, by travelling to his Long Island home… on a boat! A severe storm disrupted the mission and saved Mick's bacon. A case of crazy pirate bikers with cutlasses in their teeth and parrots on their hogs: not very pleased to meet you….

Chapter 16
Weeley 1971
Woodstock, Isle Of Wight, Glastonbury and… Weeley? Where the hell's Weeley?!
It's 1971, Ted Heath is Prime Minister, Arsenal have done the Double and Britain has just gone decimal. A festival is announced for the August Bank holiday weekend in a little-known Essex town, just outside of Clacton-on-Sea. When people hear the line-up, everyone wants to go.
The Weeley festival of August 27 – 29 1971 was organised not by a rock impresario or a sharp promoter, or even by a group of hippies: it was the brainchild of the local Round Table. Nothing to do with King Arthur, the Round Table is a sort of Rotary Club-type social / charity organisation, whose stated aims are to "To develop the acquaintance of young men through the medium of their various occupations." It all sounds very Mr Cholmondley-Warner, post-War austerity and not letting the side down old boy.
But fair play to them: they pulled off one of the most fondly-remembered of all British fests, and they did it against the odds.
The Round Table used to organise a Donkey Derby (!) every summer to raise money for charity, but this year, they decided to think that little bit bigger. They managed to get a licence for 10,000 to come to a pop concert, as they no doubt called it, in some fields outside the little village. Everyone looked forward to a local festival for local people.

Mungo Jerry, whose easy-going, loveable groove had seen 'In The Summertime' go to number one the previous year, were booked. And then it all began to snowball from there. Festivals at both Canterbury and the Isle of Wight were cancelled that year, and as more bands started to show an interest, more and more people from around the country saw that Weeley ("Where's Weeley?") could be THE event of the summer.
Once people found out where Weeley was, they started to make their way down there, some folks coming down weeks beforehand to camp out. The locals were by and large friendly and happy to have Weeley put on the map and the event was also distinguished by some sensible, low-key policing. A nice vibe grew up between the festival-goers and the locals, with very little trouble, and spontaneous outbursts of random kindness from both sides.
It was soon clear that there were many, many more people there than the 10,000 who had paid their £1.50 to get in. Estimates are that around 110,000 came, although claims have been made for as many as 150,000 people. In the end, so many bands had been booked that the music just ran constantly, round the clock for the three days from midnight on Thursday/Friday with Hackensack, who were excellent, getting proceedings underway.
The line-up was a very strong one and included T Rex, Rod Stewart and the Faces, Mungo Jerry, Status Quo, Lindisfarne, Mott the Hoople, Rory Gallagher and Barclay James Harvest. The Pink Fairies turned up and played for free in the surrounding campsites. Sweet Irish folksters Tír na Nóg played and invited everyone back to theirs for tea! My introduction to them was through that double Island compilation album El Pea which not only had a big pea on the cover – oh the wit – but also had the bright idea of having two hard clear plastic sleeves to put the records in, thus ensuring the records developed a fine mist of scratches across them!
One thing anyone who was there will never forget is the toilets, just long trenches with a bit of sack curtaining and scaffolding and truly horrific even by outdoor festival standards! Julie Felix – who played – remembers:
"It was one of those festivals that happened before people really got into the commercialised side of things. It was very spontaneous and special and a real privilege to be part of it. But I had never been in such bad loos in my whole life. Or since, thank goodness!"
And those were the artist ones, backstage! At least one poor devil fell in the public bogs.
The festival is fondly remembered for it's "Where's Wally?" chants, a trend started at the Isle Of Wight and carried on here, where the audience, sometimes thousands at a time, would start shouting for a mysterious figure called Wally. The number of people claiming to have been THE original Wally still grows by the year, like pizza houses in New York claiming to be the inventor.
The 'Wally' cry would echo throughout any rock venue throughout the 70s and early 80s. It was a strange thing to witness as it had no point other than the joy gained by bellowing Wally at the top of your voice. There was even a band called Wally, I seem to recall. One of those second division, solid, dependable riff merchant bands
Much less fun, though, was the trouble that flared up between Hell's Angels and the catering staff. The Angels, as was their wont, had appointed themselves the event's security and were throwing their weight around. Opposition came in the unlikely shape of the various stallholders and catering workers, who did not take kindly to the bikers' behaviour. They not only smashed up several bikes, but also smashed up several Angels' heads. There were serious fights, with iron bars and sledgehammers – witnesses say that there was blood everywhere, really bad scenes – and the Angels were driven away.
A lot of the bikers that didn't get their heads busted in got arrested, and were taken to nearby Colchester police station where, one copper recalls, they were hosed down with a spray borrowed from the local cinema's cleaners! There's a very good BBC Radio Essex documentary called something like 'Weeley – 35 Years On' with some great recollections from locals and festival-goers, including a hilarious anecdote from some old girl who lived in the village and saw one of the Hell's Angels leaders arrested by police and made to strip.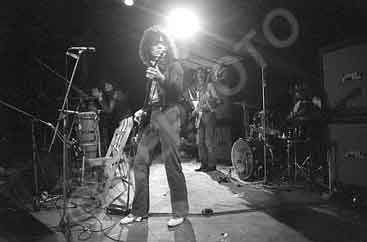 She says that this tough biker burst into tears and refused to take his clothes off, until he was forced to reveal a spanking, sparkling clean white undershirt and underwear, which he considered – according to this old girl – to be a deeply shaming display of personal hygiene.
This same woman also recounts that Marc Bolan came round to her neighbour's house to have a bath and that he gave her a quid for the privilege. It was a strange festival for Marc: there was a row with Rod and the Faces about who was going to headline, and it turned out a bad argument to win for T-Rex. Rod – resplendent in a pink satin suit – ended up going on before them to riotous acclaim and played five encores.
This was The Faces at their peak, around this time they did a live show on the BBC which you can still see on this YouTube video. This version of 'I'm Losing You' stands alone as one of early 70s rock's finest moments.
Marc, though, was thoroughly booed – the feeling at the time, of course, being that the beloved acoustic pixie had sold out and gone electric and commercial. John Peelattempted to quieten the crowd by threatening: "If you don't stop heckling, Marc is going to walk off." Not the great man's wisest choice of words: the booing grew even louder and was joined by a hail of bottles and cans. The balls on Marc – he taunted the crowd: "Hi, I'm Marc Bolan – you may have seen me on Top Of The Pops." In the end though, he won them over to a degree, especially with 'Hot Love' and a nice version of 'Debora'.
The "he's sold out" thing was a constant issue throughout the early 70s rock. The division between pop and "proper" rock music was a huge divide that few could breach. It was a false division, though, as clearly bands such as Slade, The Sweet, Mott and many others were hard core rock bands who just wrote fantastic singles and thus got put in the pop column by some. And it's also worth noting that the emerging prog rock movement saw the likes of T. Rex as mere fluff. Why listen to the simple riffs of 'Hot Love' when you could listen to a complex 25-minute piece by Van Der Graaf Generator? Or that seemed to be the argument.
History has erased much of this artificial divide and thankfully so. Good music is good music, right?
More universally enjoyed were strong sets from Status Quo and Lindisfarne. The Geordies' drummer Ray Laidlaw remembers being blown away by Weeley:
"We climbed this ladder to get on the stage and looking out, the crowd just seemed to go on for ever. I got stage fright for a moment. But we got intoxicated from it, an amazing reaction. The band was just starting to happen and we didn't realise how popular we were until Weeley."
Lindisfarne, it may be forgotten, were a top band in 1971 and had provided Charisma with that label's first number one album. Their wistful, beer-fuelled folk rock remains a pure delight. In Alan Hull the North East produced perhaps its finest-ever songwriter. He left us way too early. Do dig out his solo albums, especially Pipe Dreams: there's hidden gold in those grooves.
Other highlights were the little-known Stone The Crows, who played a magnificent show. Maggie Bell was described as being "like a Scottish Janis Joplin" by one fan and rightly so. All the STC albums are worth finding - a tremendous blues rock band, Maggie should have been an even bigger star than she was. Jimmy Dewar played bass in STC and went on to sing and play the four strings for Robin Trower. The finest white soul/blues singer these lands have ever produced, Jimmy Dewar had THE voice.
The Edgar Broughton Band - a festival regular with their 'Out Demons Out' chant and the always dependably brilliant Rory Gallagher, touring his Deuce album at the time I should think - also put on good shows –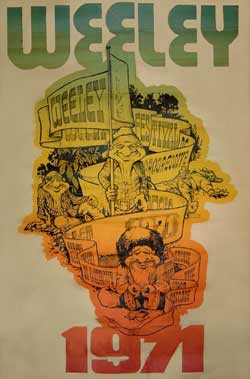 and Mungo Jerry stuck in the mind for turning up in a double decker bus!
But probably the perfect moment belonged to early adopter prog band, Oldham's finest, Barclay James Harvest, who played at dusk on Friday. They were a hot band then and eagerly anticipated; even the 90-minute delay while their 30-piece orchestra set up didn't dampen enthusiasm. Woolly Wolstenholme remembers:
"The sun was going down and the stage lighting was just starting to have an effect. The timing was perfect. We just went on and filled the air with melodic sound on Mockingbird. We kind of stole the event."
I saw BJH on the Octoberon tour - an album I loved - and they didn't disappoint. A lovely combination of folky acoustic-ness with some searing electric guitar and symphonic melodies. Their double live was essential for an Army coat-wearing hairy man of the mid 70s.
Weeley is fondly remembered by those who attended. Afterwards Weeley slipped back into obscurity and didn't dip its genteel toe into the river of rock n roll history again.
But briefly it had rocked.